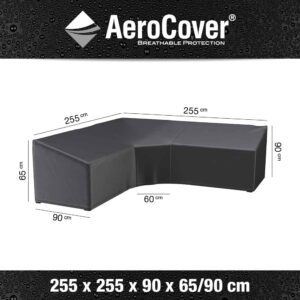 €

139.95
AeroCovers® Garden L/Trapeze Shaped Sofa Set Furniture Cover 255 x 255cm (7955)
L - Shaped sofa sets
You may be lucky enough to find a furniture cover that perfectly fits the size and shape of the sofa set that you have. However this is not always possible, and you may have to arrange your furniture differently in order to be able to cover it. If there is not a L shape cover to suit your set, you may decide to position your furniture into a rectangular formation and select a suitable cover to fit this dimension. Lounge set cover corner L-shape 255 x 255 x 90 x H90/65cm (7955)
L-shape corner sets with 90° angle. The back rest is Higher in height to the arm rest.
Will suit the
Casablanca
or the
Madeira
 corner L-Shaped sofa sets When you measure your garden furniture set, allow for some space for covering and removing your protective cover.
AeroCovers®   
Covers are used to protect your furniture! Right? well did you know that if you place a fabric like PVC or Vinyl directly over your garden furniture table or BBQ that without proper ventilation, it is likely that you will experience a build up of mould and mildew on the surface of the item you are trying to protect. there are some important things that you should consider when choosing the right cover for your furniture or BBQ.
Breathing is essential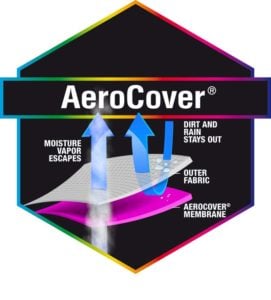 Air circulation is most important. as temperatures fluctuate condensation is inevitable. that is why all Aerocovers feature a breathable membrane that allows air  and condensation to transfer to the outside, whilst at the same time protects your furniture or BBQ from the nasty effects of the weather.
Add to cart