**New for 2018**
Plaza Viva Awning
An incredibly practical and resilient awning. The Plaza Viva is designed to be an effective sun shade while also being resilient against gusty winds and summer rain. Offering up to 30cm square of shade. You can also enjoy your garden in the rain with it's exceptionally resilient water repellent fabric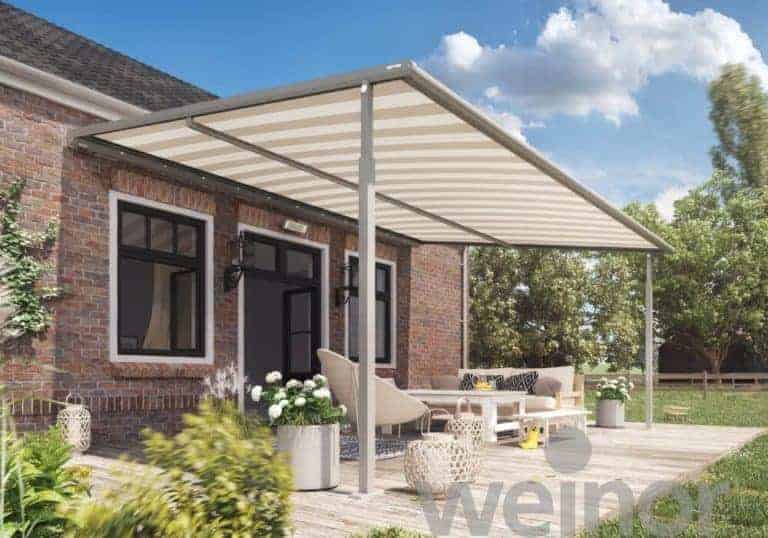 This awning is not just robust. It also includes a telescopic post that allows you to quickly and easily drain any rainwater that pools on top.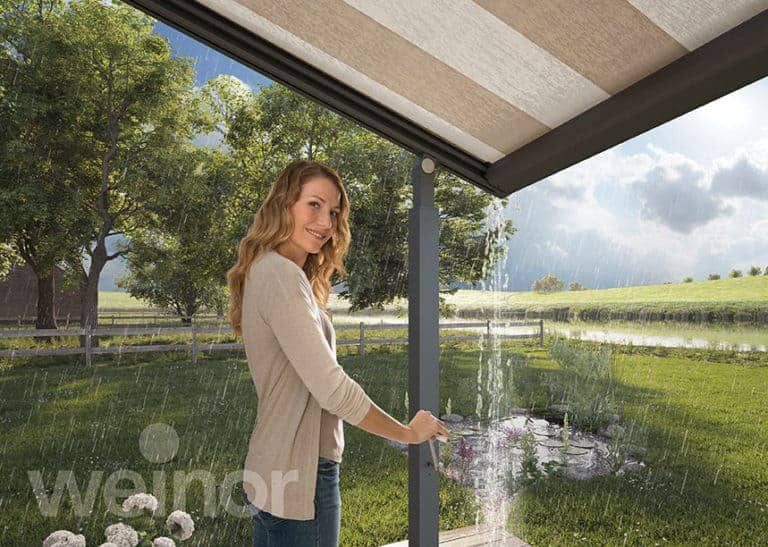 The Plaza Viva also comes with built in LED lights as standard allowing you to enjoy your garden in the evening time. The Plaza Viva's lights and cassette can be controlled via a hand remote and the weinor mobile app.
The Plaza Viva is also exceptionally customization with an optional Valance for privacy and additional shade. For a practical and study awning, the Plaza Viva allows you to enjoy the outdoors in style.
Plaza Viva technical data
Max. width 6 m
Max. projection 5 m
Multi-unit systems optional
Wind protection: tested to wind force 6 (Beaufort)
Rain protection* from a 4° pitch Roof pitch 4° – 25°
Mounting alternative – installation on walls, ceilings and roofs possible
Motor drive as standard
Additional attractive privacy and sun protection from the front: The Valance Plus from weinor is the perfect solution for dazzling light, especially when the sun is lying low in the evening. It can be lowered using the gear handle and then also offers reliable privacy protection. The Valance Plus is also available with the fabrics from the screens by weinor® collection that let light and air through.
* The water draining effect using the telescopic technology is only achieved with a minimum awning pitch of 4 and when the telescopic post is completely lowered (exception: Valance Plus option. The minimum pitch required here is 5°).