Zenara – Trend-Setting Design In Its Perfect Form
The backbone of the ground-breaking design of the Zenara is its innovative technology. With LED lighting as optional extras, this awning leaves nothing to be desired.
Avant-garde design for style purists – Even the wider versions of the Zenara require just two wall attachments.
very sturdy cassette style awning.
up to 6.5 m wide – versions at least 5.5 m wide supplied with patented wire tensioning technology used in bridge construction.
with LongLife arm (10-year warranty).
Concealed mechanical parts for a seamless appearance – Every mechanical component has been tucked away inside the housing, giving the Zenara its purist look.
electronics and controls all tucked away inside the cassette.
patented OptiFlow-System® for the ideal fabric positioning.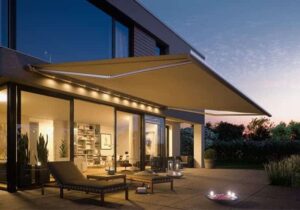 LED lighting for significantly longer enjoyment of your patio – The pleasant warm white light that comes with the Zenara LED gives you endless hours of joy well into the evening.
Highly energy efficient operating life of 30,000 hours.
Infinitely dimmable when used with BiConnect radio control.
Can be used even when awning is retracted.
Dimensions: 
Max. width: 650 cm & Max. projection: 400 cm
| Product Specifications: | |
| --- | --- |
| max. width | 6,5 m |
| max. projection | 4 m |
| motor drive | standard |
| crank drive | – |
| tilt adjustment | 5° – 40° |
| mounting version | Wall, ceiling or rafter attachment possible |
Delivery time: 4-5 weeks from date of order.