Live the alfresco life with The Outdoor Scene
The Outdoor Scene is proud to offer a range of different built in barbecue models and kitchen components for you to choose from to help build the built outdoor kitchen of your dreams. The Outdoor Scene offers a diverse range of options for your kitchen that you can explore.
The Outdoor Scene will assist you from the very beginning to design your ideal outdoor kitchen. After conducting a site survey and placing the order, expert builders from the Outdoor Scene will install your brand new outdoor kitchen with whatever customization you desire. We are also proud to partner with exceptional garden designers who can help take your outdoor space to the next level. When helping you build your dream outdoor kitchen, we aim to help you build the best kitchen within your scope!
Completed outdoor kitchens for customers across Ireland

ProFresco outdoor kitchens
The Outdoor Scene is proud to use the highest quality, polished and most durable outdoor kitchen builds in the world. We offer a range of kitchen storage options, cabinet finishes and worktops to create your dream luxury outdoor kitchen.
Our outdoor kitchens features:
galvanized steel construction of frames, which is rust and corrosion resistant and under normal conditions will not warp, rot or burn,
waterproof, chemical resistant, mildew proof & corrosion resistant cabinets,
cabinet finishes which are impervious to water, swelling and warranted for 10 year UV exposure,
solid granite worktops,
waterfall end panels,
all weather PVC cabinet liners,
soft close doors/drawers.
Beefeater hardware for your outdoor kitchen
We not only supply beautiful and durable outdoor kitchen furniture, but also outdoor kitchen hardware. We offer Beefeater built in barbecues, side burners, stainless steel doors, drawers and bar centres. We also recommend Beefeater outdoor refrigerators which will allow you to keep the meat & drinks cool outdoors.
Beefeater is a well known Australian company which manufactures top quality grills and outdoor kitchen components. Their functional, stylish and durable products will complement any outdoor setting. We highly recommend built in BBQs from ProLine Series. These barbecues with a modern sleek linear design offer an array of premium features like the multipurpose cast iron furnishings, powerful burners and a superior oil management system. Below you can see images of outdoor kitchen built in Ireland with Beefeater ProLine units and Beefeater fridge.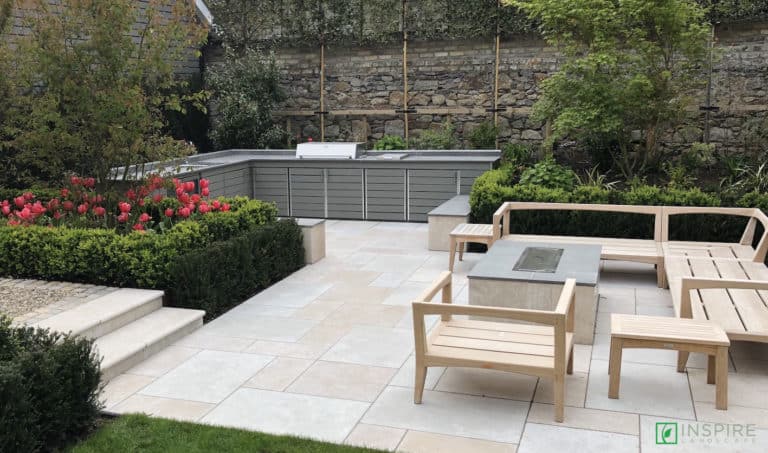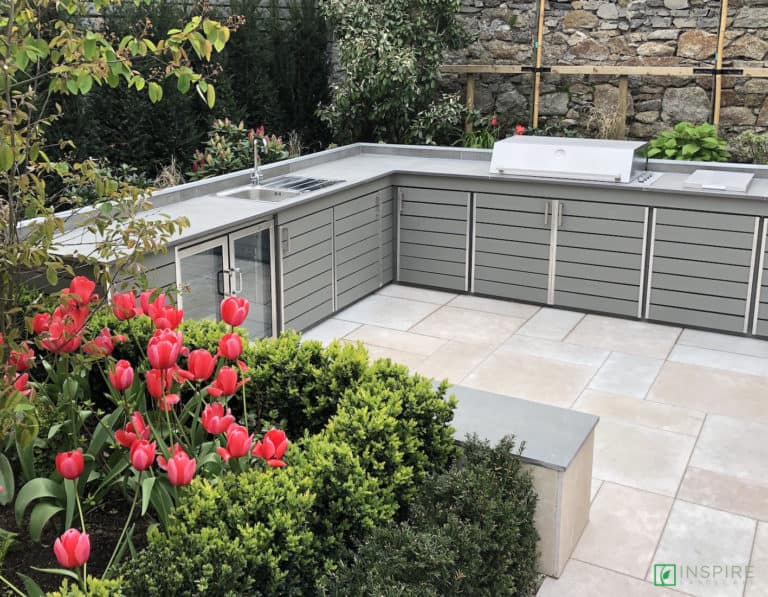 Why build your outdoor kitchen with The Outdoor Scene?
great selection of high quality built in barbecues, kitchen components, contemporary furniture, awnings, verandas and outdoor heating solutions,
huge choice of finishing units,
we have been installing and manufacturing kitchens for 5 years with a number of happy clients; it is a part of our lifestyle offer.
The Irish Times ranks our outdoor kitchens as one of the best in class outdoor cooking solutions in cooler climes. 
Download brochures:
Our Outdoor Kitchen PackagesDownload
Beefeater Barbecues & Outdoor Kitchens CatalogDownload
Contact us today for a no obligation quote to suit your needs CALL NOW 01 296 0212
Built in BBQ Units and Components