Live The Alfresco Life With The Outdoor Scene
The Outdoor Scene is proud to offer a range of different built in barbecue models and kitchen components for you to choose from to help build the built outdoor kitchen of your dreams. We offer a diverse range of options for your kitchen that you can explore.
The Outdoor Scene will assist you from the very beginning to design your ideal outdoor kitchen. After conducting a site survey and placing the order, expert builders from the Outdoor Scene will install your brand new outdoor kitchen with whatever customization you desire. We are also proud to partner with exceptional garden designers who can help take your outdoor space to the next level. When helping you build your dream outdoor kitchen, we aim to help you build the best kitchen within your scope!
Discover inspiration for your outdoor kitchen by visiting our showroom in Dublin! We are open 7 days a week for your convenience.
Download Outdoor Kitchens Brochure
Harmony Proline Six Burner

Harmony four Burner With Fridge

Harmony Five Burner BBQ with Double Fridge

Harmony Four Burner with Double Fridge and Sink&Tap

Harmony Proline Six Burner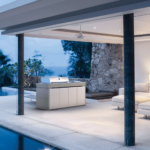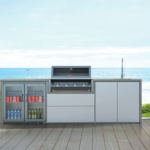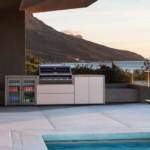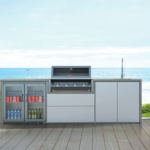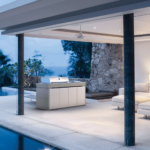 This is next-level luxury living. Harmony alfresco kitchen range is purpose-built to create the ultimate outdoor space. Every detail and feature is designed to fit perfectly into the space you have in mind. Featuring quartz benchtops and storage doors, practical deep and wide drawers and quality fittings. Choose from one of our preselected options to help you design the perfect outdoor BBQ space to create unforgettable food and beautiful memories.
5 Easy Steps To Making Your Own Outdoor Kitchen With Us
Select the kitchen style and dimension that appeals to you
Choose the barbecue model that you prefer in your new outdoor kitchen
Choose whether you would like to include a sink in your unit
Choose whether you want to include a fridge and which size
Email or call us with your list and we'll be happy to take care of your requirements by confirming the suitability of your configuration
Download Harmony Outdoor Kitchens Brochure
FrescoPro Outdoor Kitchens
Enjoy Your Garden During All Four Seasons Of The Year!
Canberra Outdoor Kitchen

Esperance Outdoor Kitchen

Augusta Outdoor Kitchen

Boronia Outdoor Kitchen

Fremantle Outdoor Kitchen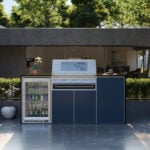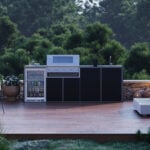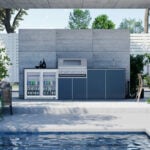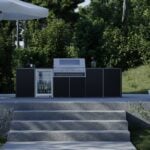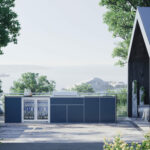 Whether it is a patio, suburban terrace or rural mansion you can have an outdoor kitchen that you will be proud of for many years to come. FrescoPro Outdoor Kitchens use the highest quality, polished and most durable outdoor kitchen builds in the world. We offer a range of kitchen storage options, cabinet finishes and worktops to create your dream luxury outdoor kitchen.
Download FrescoPro Outdoor Kitchens Brochure
Beauty & Functionality All In One
Cabinex 4 Burner BBQ Outdoor Kitchen With Sink&Tap

Cabinex Five Burner BBQ Outdoor Kitchen with Sink&Tap

Cabinex Five Burner Outdoor Kitchen with Fridge

Cabinex Five Burner Outdoor Kitchen with Fridge and Sink&Tap

Cabinex Five Burner Outdoor Kitchen with Fridge and Sink&Tap

Cabinex Five Burner Outdoor Kitchen with Fridge and Sink&Tap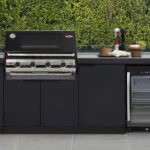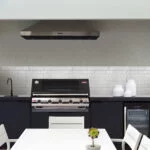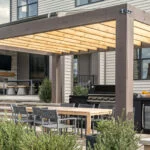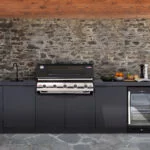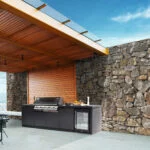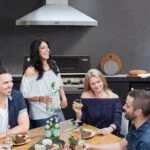 Cabinex outdoor kitchens offer beauty & functionality. Market-leading appliances, premium materials and award-winning services are brought together to make your Outdoor BBQ Kitchen everything you've ever wanted.  Cabinex burners can  be converted to Natural Gas or run on propane gas. For an incredible outdoor kitchen, the Cabinex series is a perfect choice.
Download Cabinex Kitchens Brochure
Flexibility is what makes our Burnout kitchens so special. You can build them around a corner,  long and straight, let them expand little by little or place them next to your existing grill. You can add benches and tables of the same material. Because it looks even fancier that way! Burnout kitchens are also compatible with all grill manufacturers.
Features
Modular: configure your kitchen as you need it, the way you can and want to place it.
Durable: the frames are made of sturdy stainless steel, the bodies, fronts, and countertops are made of an innovative composite material with laser-cut edges. Individually finished fittings are approved for outdoor use and easy to move.
Sustainable: only PVC- free materials used
Expandable: Burnout kitchens can be easily placed next to your grill, extending your action radius 
Compatible:

can be build with a BBQ from 

all grill manufacturers
Forged From Experience & Passion
EO kitchens are created to bring a premium kitchen's functional attributes and aesthetic qualities to the outdoor space. Designed and made in the UK, EO kitchens are made from high-specification materials. Powder-coated stainless steel modular frameworks, Dekton ceramic worktops and composite Millboard frontals make them fit for purpose in the Irish climate. 
Features
Powder coating available in a choice of four colours
Millboard frontals with a choice of seven different finishes
Dekton worktops with a choice of four different finishes
Metalwork frames fabricated from stainless steel with stainless steel adjustable feet
Compatible with Broil King, BeefEater, Napoleon and Kamado BBQs
Reviews From Our Customers
Sebastian Grisales
2022-12-07
Muchas cosas navideñas, me encanto.
The best of the best but only for those with deep pockets. A fantastic store offering high end garden furniture and barbecues but be sure to bring your wallet, this is not for those looking for something cheap and cheerful. The staff are incredibly helpful and knowledgable and I love visiting, sadly usually only for some Weber BBQ accessories. When (yes when) I won the lotto I'll be back to fully kit out my outdoor garden kitchen!
Shirley Mccloskey
2022-12-03
This is an all round seasonal shop in goatstown,just down from the goat pub,clearly christmas so packed to the roof with seasonal decorations,trees,lights,everything you could want and more,I strolled around while everyone did there thing,beautiful stuff to be honest,from old style hanging decorations to modern day,every size of tree you could wish for,who knew so many lights in all sizes and shapes,great wee spot if in need pop in have a look.
Great friendly service, called by phone and they put away a item for me to collect. Really nice garden furniture and firepits. Definitely worth a return for a proper look.
Staff were friendly and we bought an heater here which was a great price
colette cunningham
2022-06-10
I recently purchased a Kamado Joe Bbq from Outdoor Scene. Wonderful people to deal with, they went out of their way to deliver in time for a birthday celebration. The delivery guys were extremely helpful. I would definitely recommend this store.

Dublin Area, Meath, Kildare & Wicklow Installation

Get Your Quotation In 3-5 Days

No Obligation Quote
FrescoPro Outdoor Kitchens