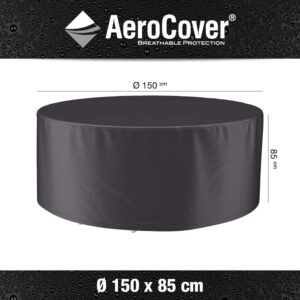 €

99.95
AeroCovers® Garden Dining Set cover 7911 

Garden furniture set cover round. Breathable garden furniture cover for round tables up to 150 cm  including chairs. Measure: 
Dining Sets
We would always recommend that you cover your entire garden dining set including the chairs In the selected setting, measure all outer sizes.
The length. Over the table including the sides of the chairs.
The width. Over the table including the back of the chairs.
The height. In general this is the height of the dining chairs.
When you measure your garden furniture set, allow for some space for covering and removing your protective cover.
AeroCovers®   
Covers are used to protect your furniture! Right? well did you know that if you place a fabric like PVC or Vinyl directly over your garden furniture table or BBQ that without proper ventilation, it is likely that you will experience a build up of mould and mildew on the surface of the item you are trying to protect. there are some important things that you should consider when choosing the right cover for your furniture or BBQ.
Breathing is essential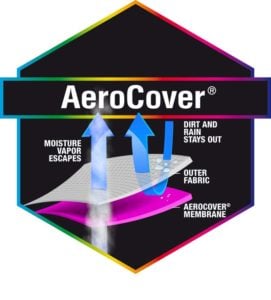 Air circulation is most important. as temperatures fluctuate condensation is inevitable. that is why all Aerocovers feature a breathable membrane that allows air  and condensation to transfer to the outside, whilst at the same time protects your furniture or BBQ from the nasty effects of the weather.
Add to cart