€

99.95
AeroCovers® Garden Dining Set cover 7911 

Garden furniture set cover round. Breathable garden furniture cover for round tables up to 150 cm  including chairs. Measure: 
Dining Sets
We would always recommend that you cover your entire garden dining set including the chairs In the selected setting, measure all outer sizes.
The length. Over the table including the sides of the chairs.
The width. Over the table including the back of the chairs.
The height. In general this is the height of the dining chairs.
When you measure your garden furniture set, allow for some space for covering and removing your protective cover.
AeroCovers®   
Covers are used to protect your furniture! Right? well did you know that if you place a fabric like PVC or Vinyl directly over your garden furniture table or BBQ that without proper ventilation, it is likely that you will experience a build up of mould and mildew on the surface of the item you are trying to protect. there are some important things that you should consider when choosing the right cover for your furniture or BBQ.
Breathing is essential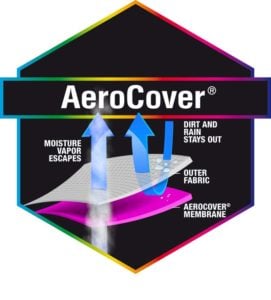 Air circulation is most important. as temperatures fluctuate condensation is inevitable. that is why all Aerocovers feature a breathable membrane that allows air  and condensation to transfer to the outside, whilst at the same time protects your furniture or BBQ from the nasty effects of the weather.
Read more
What is the right furniture cover for you?
AeroCover Garden Furniture Cover
Customers usually encounter difficulties when finding the right size garden furniture covers, since it can be of all shapes or sizes. With AeroCover garden furniture covers, you can easily protect an outdoor dining set, garden sofas, or parasols. What's more, AeroCover products are made of breathable material that allows air and condensation to escape during varying temperatures throughout the year in Ireland. You can have peace of mind that your outdoor garden furniture will never be at risk of being affected by the weather.
AeroCover Outdoor Sofa Cover
No matter the size of your garden sofa, our wide range of exterior sofa covers will protect them all, from trapeze, lounge, or L-shaped sofas.
AeroCover Dining Set Cover
Who does not enjoy a nice meal in the fresh air outside, in the garden of your home? The dining set covers at Outdoor Scene are created to suit all shapes and sizes. Whether you have square or round, small or large outdoor dining tables, we promise superior quality dining furniture covers.
Customer service guarantee
The Outdoor Scene's professional and amiable staff will assist you in browsing the best-suited garden furniture options for you. We understand that every customer will be different, with unique needs and desires. We aim to meet above and beyond every customer's expectations and this has allowed us to create valuable business relationships and a high reputation, both in the products we sell and the customer service and experience we provide. Our main aim is to have every customer leave with a happy and satisfied smile on their face that they have managed to find the outdoor garden product they need.
Don't forget that we deliver to your door
We also deliver garden furniture in Ireland so that with a click of a button in our online store, you can expect your new garden furniture delivered right at your door. Don't hesitate to look at our the wide-ranging online catalogue now at Outdoor.ie.