Louvered Roofs
Enjoy the sunshine and outdoors with a Louvered roof veranda. These louvered pergolas are designed to allow relaxing in pleasant sunshine and be quickly changed to shelter if the weather takes a turn. These roofed verandas are exceptionally customizable and can be configured to suit your needs for home and business.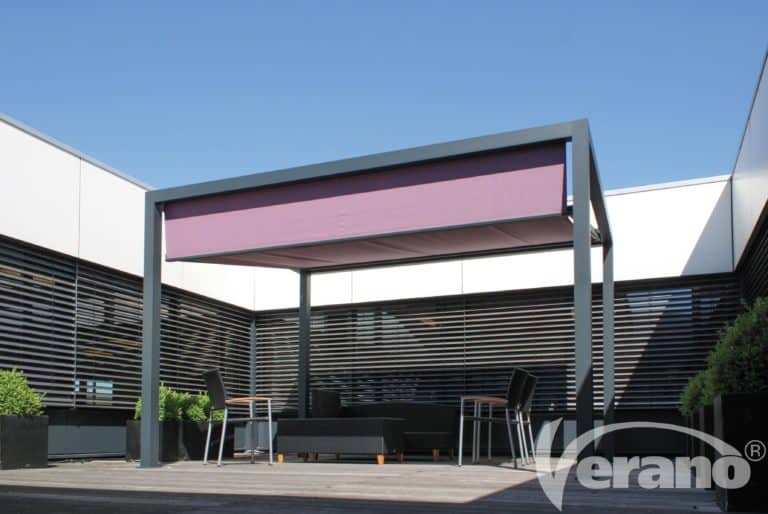 Designed to stand in all weather
Our Louvered roofs are made with robust aluminum construction and weatherproofed finishes for long-lasting. These louvered pergolas also create "Splash Proof" covers when closed to keep water out. Quickly react to changing conditions with the tiltable lamalle and keep the rain out. Or let just the right amount of sun in.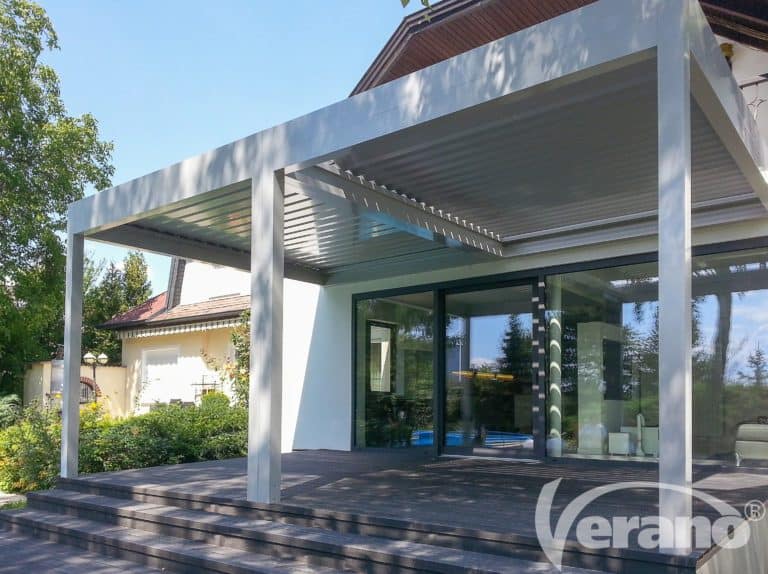 Customizable for your needs
Each of our Louvered veranda roof come with exceptional customisation options. Choose from a range of colours from the manufacturer and choose from accessories like inbuilt LED Lighting, privacy valences, glass doors and more. Please contact us for more details on how we can help you customize and perfect your ideal garden vision.
The Verano Louvered Roof comes in three sizes with full RAL Colour customisation. Each order is tailored to your specification. Please contact the Outdoor Scene for more details.
Verano Arezzo
| | |
| --- | --- |
| Max. width | 4500 mm |
| Max. depth | 6000 mm |
| Control | Electric |
| Extra | Overhang possible |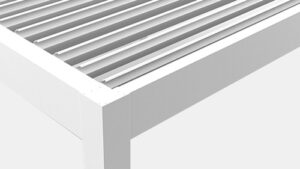 Our recent installation
SAMPLE PRICING ON Arezzo Louvered Roof Freestanding
| | | | | | |
| --- | --- | --- | --- | --- | --- |
| Size | 2500 | 3000 | 3500 | 4000 | 4500 |
| 2000 |  €        11,536 |  €        12,016 |  €        12,496 |  €        12,976 |  €        13,455 |
| 2500 |  €        12,562 |  €        13,127 |  €        13,694 |  €        14,260 |  €        14,827 |
| 3000 |  €        13,587 |  €        14,240 |  €        14,893 |  €        15,545 |  €        16,198 |
| 3500 |  €        14,613 |  €        15,351 |  €        16,091 |  €        16,829 |  €        17,569 |
| 4000 |  €        15,402 |  €        16,200 |  €        16,995 |  €        17,792 |  €        18,589 |
| 4500 |  €        16,427 |  €        17,311 |  €        18,195 |  €        19,077 |  €        19,961 |
| 5000 |  €        17,453 |  €        18,422 |  €        19,393 |  €        20,361 |  €        21,332 |
| 5500 |  €        18,479 |  €        19,535 |  €        20,590 |  €        21,646 |  €        22,703 |
| 6000 |  €        19,504 |  €        20,646 |  €        21,788 |  €        22,931 |  €        24,073 |
| LED lights |  €           1,603 |  €           1,603 |  €           1,603 |  €           1,603 |  €           1,603 |
| Coupling |  €           2,783 |  €           2,783 |  €           2,783 |  €           2,783 |  €           2,783 |
SAMPLE PRICING ON Arezzo Louvered Wall Fixed
| | | | | | |
| --- | --- | --- | --- | --- | --- |
| Size | 2500 | 3000 | 3500 | 4000 | 4500 |
| 2000 |  €        10,524 |  €        11,004 |  €        11,484 |  €        11,963 |  €        12,443 |
| 2500 |  €        11,550 |  €        12,115 |  €        12,682 |  €        13,248 |  €        13,814 |
| 3000 |  €        12,575 |  €        13,228 |  €        13,881 |  €        14,533 |  €        15,186 |
| 3500 |  €        13,601 |  €        14,339 |  €        15,079 |  €        15,817 |  €        16,557 |
| 4000 |  €        14,390 |  €        15,187 |  €        15,983 |  €        16,780 |  €        17,577 |
| 4500 |  €        15,415 |  €        16,299 |  €        17,182 |  €        18,065 |  €        18,948 |
| 5000 |  €        16,441 |  €        17,410 |  €        18,380 |  €        19,349 |  €        20,320 |
| 5500 |  €        17,467 |  €        18,523 |  €        19,578 |  €        20,634 |  €        21,691 |
| 6000 |  €        18,492 |  €        19,634 |  €        20,776 |  €        21,918 |  €        23,061 |
| LED lights |  €           1,603 |  €           1,603 |  €           1,603 |  €           1,603 |  €           1,603 |
| Coupling |  €           2,783 |  €           2,783 |  €           2,783 |  €           2,783 |  €           2,783 |
Guide prices only. All louvered roofs are custom made to the customer specifications and can be made to any size within the range specific to each model.

For your ideal veranda, and to suit any outdoor entertaining area – The Outdoor Scene has the right advice, and the best products to suit. We now accept enquiries for louvered roofs nationwide. There will be surplus charges for outside of the Dublin and surrounding counties for installations. Contact us today for a no obligation quote to suit your needs. We will get back to you with the quotation within 3-5 working days. CALL NOW 01 296 0212