MASTERFULLY ADAPTABLE – TERRAZZA IS THE RIGHT PATIO ROOF TO MEET YOUR NEEDS
Enjoy your garden until well into autumn – weinor's Terrazza patio roof will keep you well sheltered from the wind and other elements. And your patio furniture can remain outside without being damaged. The appeal of weinor's patio roof is its elegant construction, attractively shaped design and high durability. With numerous versions available, it is also very suited to many different types of houses and requirements.
The weinor Terrazza patio roof convinces with its elegant construction, shapely design and high resilience.
Our light bar extends the amount of time you can use your patio roof until well into the evening. The light bars can be wall-mounted or fi tted to a roof support depending on your preference.
CHOOSE FROM A NUMBER OF DIFFERENT ROOF TYPES
For the perfect garden patio roof solution – contact The Outdoor Scene now for a quote. Whatever your patio roof requirements, The Outdoor Scene has the perfect patio roof product.
Please note that we only cover Dublin Area, Meath, Kildare and Wicklow.
Quality & Reability with 100% Satisfaction
Customize your Terraza with awnings and privacy valences

Privacy and sun protection at the front and at the sides with the Veritex II Awning

Add Sun protection above your Terraza veranda

The Terraza awning has different form factors like the Terraza Pure's cubic design

The Terraza Pure has spectacular lined design

Perfect for keeping an open space in your garden with the added benefit of shelter

The Terraza Sempra has a classic sloped roof with amazing durability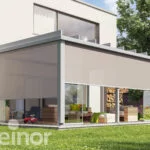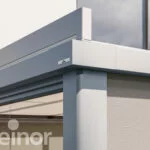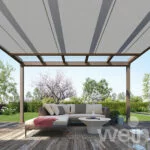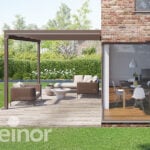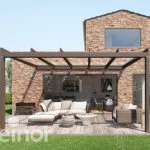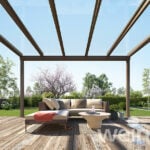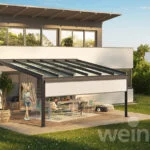 REVIEWS FROM OUR CUSTOMERS
Sebastian Grisales
2022-12-07
Muchas cosas navideñas, me encanto.
The best of the best but only for those with deep pockets. A fantastic store offering high end garden furniture and barbecues but be sure to bring your wallet, this is not for those looking for something cheap and cheerful. The staff are incredibly helpful and knowledgable and I love visiting, sadly usually only for some Weber BBQ accessories. When (yes when) I won the lotto I'll be back to fully kit out my outdoor garden kitchen!
Shirley Mccloskey
2022-12-03
This is an all round seasonal shop in goatstown,just down from the goat pub,clearly christmas so packed to the roof with seasonal decorations,trees,lights,everything you could want and more,I strolled around while everyone did there thing,beautiful stuff to be honest,from old style hanging decorations to modern day,every size of tree you could wish for,who knew so many lights in all sizes and shapes,great wee spot if in need pop in have a look.
Great friendly service, called by phone and they put away a item for me to collect. Really nice garden furniture and firepits. Definitely worth a return for a proper look.
Staff were friendly and we bought an heater here which was a great price
colette cunningham
2022-06-10
I recently purchased a Kamado Joe Bbq from Outdoor Scene. Wonderful people to deal with, they went out of their way to deliver in time for a birthday celebration. The delivery guys were extremely helpful. I would definitely recommend this store.

Dublin Area, Meath, Kildare & Wicklow Installation

Get Your Quotation In 3-5 Days

No Obligation Quote
RECEIVE OUR PROMOTIONS & MORE!
Sign up to our newsletter to receive our best promotions first, get inspired to create your dreamy outdoor space & discover the latest trends.