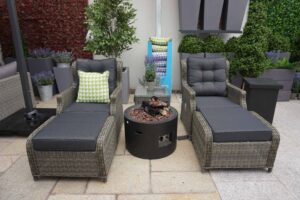 €

1,195.00
Toscanne Reclining Chairs and Table Set Grey
Lounge in luxury with these unique outdoor reclining chairs, footstools and table. Each garden recliner is made with a classic Rattan wicker style on the outside with a sturdy aluminum base. But that's not all. The back of the chair can recline allowing you to sit back and enjoy your garden or even fully recline to allow you to bathe in the sun's glow. Each chair comes with two comfortable and durable cushions. The table is also made with a Rattan and aluminum base, topped off with a glass top. The perfect set for lounging in your garden. The Toscanne will bring you comfort and style for years to come.
Dimensions:
Table: 50cm x 50cm x 45cm
Reclining Chair: 73cm x 90cm x 97cm
Add to cart
How to choose a perfect outdoor sofa set?
When choosing to buy an outdoor garden sofa set. There are many variables you need to take in mind. How much space do you have on your patio or the area in your garden? Do you want to leave your sofa outside or keep it in a covered area under a pagoda? What style of an outdoor sofa will best suit your patio? And of course, your budget. At the Outdoor Scene, our experienced sales team will have no problem assisting you in finding the right outdoor sofa set for you.
Our outdoor sofa sets
At the Outdoor Scene we have many garden sofa sets available that we are proud to carry featuring a variety of different styles and features. One of our most popular garden sofa models over the last year has been the Carina Outdoor Sofa and Firepit Set. This outdoor furniture combines the comfort and durability of a modern made rattan sofa set with an amazing fire pit included. A perfect setting for family gatherings that go into the night. Another outdoor sofa set that has been a hit has been the Stockholm set. Contemporary garden furniture set featuring stylish construction and perfect for sharing evenings with friends. If you want a classic choice, have a look at our many rattan furniture sets such as the Patros. Our rattan garden sets are made with durable and modern construction for long term use and protection against the elements. And finally, add some fun with our Panama and Tuscany hanging chairs. A huge hit for families with children. These outdoor egg chairs come with their own hanging polls and are easy to set up.
Unrivalled Contemporary Garden Furniture Sofa Designs
Translated through customer-led design, The Outdoor Scene infuses a wealth of knowledge and experience to bring you an outdoor sofa range which is stylish and distinctive. At The Outdoor Scene, we offer many different styles of garden sofas, dining sets, garden armchairs as well as rattan corner sofas. All are designed to withstand outdoor weather conditions while also bringing life to your entertaining area. Talk to us now, about the best outdoor garden furniture to compliment your home.
Garden Sofa Accessories - Cushions, Covers & More
Not only does The Outdoor Scene offer the greatest range of outdoor sofas in Ireland, but everything else you need to make the most of your outdoor lifestyle. This includes a comprehensive selection of accessories, such as top quality outdoor furniture cushions, and garden furniture covers.
Nationwide Delivery on all Garden Furniture
Browse online, buy securely, and take advantage of our safe and secure ordering and enjoy as we deliver nationwide to your door.
Customer Service Guarantee
The Outdoor Scene's friendly and well-trained staff are always more than happy to explore all your outdoor furniture options. The Outdoor Scene takes great pride in our attention to detail and meticulous customer service. The Outdoor Scene also services the hospitality industry and other trade industries. Any commercial business enquiries are very welcome.