Garden Verandas
Enjoy your garden during all Four Seasons of the year!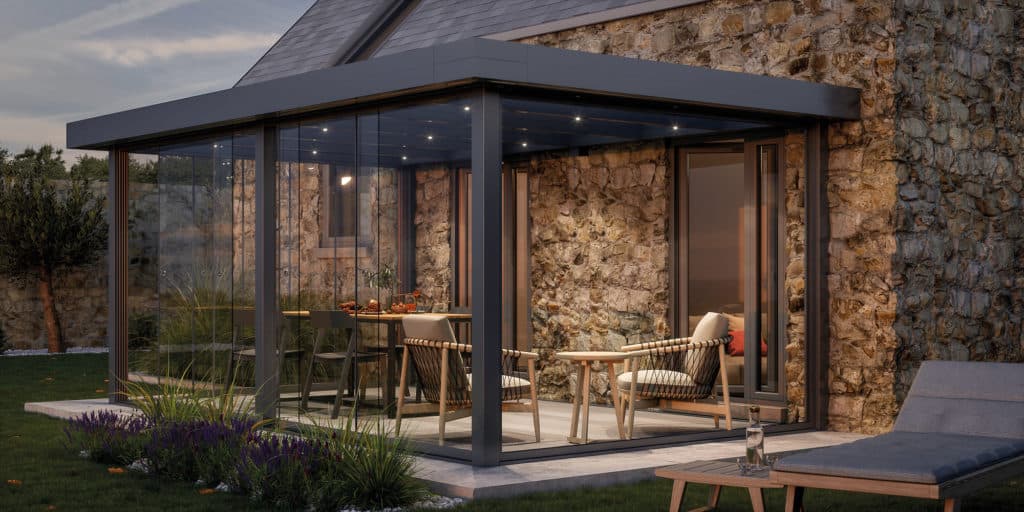 Always dreamed of enjoying your garden all year long? The Outdoor Scene makes your ideal garden living space a reality.
With a veranda, you can enjoy your garden all year long. The sophisticated verandas we sell at The Outdoor Scene are based on specific customer needs. Extra thick parts for outstanding stability, proper finish for an attractive appearance and above all, a complete system for unlimited recreation.
A rainy day becomes a new experience with a veranda, whether you choose a polycarbonate or glass for your veranda roofing. You can enjoy your garden during all four seasons.
---
The Benefits of a Veranda: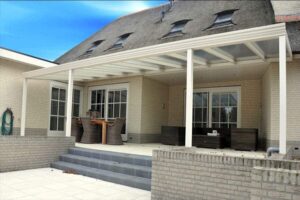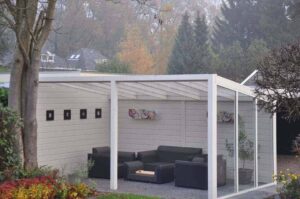 Standard and/or customized construction for every house
3 standard colours and all RAL colours possible (surcharge)
Unique price performance ration
Gutter profile that suits the style of your home
Polycarbonate or glass roofing
Easy to expand to a garden room
Unlike an awning, our verandas can withstand winds in excess of 117kph and a snow load of 65kg per m2. so you do not have to worry about the weather.
Manufactured in Germany, The Outdoor Scenes Verandas are not only aesthetically enhancing your property, you can be assured that this tried and trusted Veranda system fitted by our professional team with over 30 years experience, will last a lifetime.
---
Unique selling points of a veranda construction
Extra stability: standard 3 mm thick gutter for extra stability.
Perfectly finished front view: our standard 14 cm in height gutters offers that perfectly finished front view for your veranda.
Maximum support: the roofing is supported by four sides of rubbers.
Attention to details: aluminum cover profiles for roofing and sides presents a uniformed, finished look.
Invisible drainage: the drainage is standard integrated in the leg stand.
Why choose a veranda?
Significant enhancement to your living pleasure
Enjoy your garden all year long
Ideal protection for your garden furniture & accessories
Less framework maintenance due to protection from weather influences
Valuable investment, a veranda increases the value of your property
Your home remains cool in summer and less heat is lost during winter
A veranda adds an exquisite touch to your garden
No building permit is necessary in most cases
Customized veranda
In addition to the standard packages, The Outdoor Scene also provides customized verandas. The verandas are entirely based on specific customer needs. Feel free to share your precise wishes with us using the contact form, email or live help and we will assist you, free of charge.
---
Create the ideal outdoor entertaining and dining area with a Veranda

Strong and safe
The verandas sold by The Outdoor Scene are made of high quality aluminium. The verandas are coated in three standard colours: RAL9016 (white), RAL 9001 (cream white) and RAL 7016 (anthracite grey with texture). The verandas are manufactured according to strict German building regulations and are therefore strong, secure and robust. Aluminium is very durable, does not discolour and is of low maintenance.
Roofing
The roofing material is a very personal choice. Besides the two polycarbonate roofing types, The Outdoor Scene also offers two heat-resistant versions that not only offers an extra clear version but also lets in more sunlight into the veranda. For those who prefer luxury and transparency, glass roofing is available as well. The Outdoor Scene offers sunlight-reflecting glass as well as the standard safety glass.
Additional options
The setup and composition is totally up to you. Whether you choose a straight, diagonal or freestanding, as a carport or as a complete garden room. Do you want to expand and decorate your veranda? The Outdoor Scene offers numerous design possibilities for your veranda! Besides the additional options for your veranda walls, The Outdoor Scene also offers lighting and heating.
---
What Our Customers Are Saying
"We recently moved into a new house and were looking for a veranda type of roof, attached to the house, to cover a reasonable area in the back garden. We wanted a strong enough construction but at the same time not to overshadow the kitchen (as it is north facing and not quite sunny). I was happy to find out that Outdoor scene were able to provide all that and make a glass roof instead of polycarbonate. That gave us the desired see through effect we were looking for. Eamonn visited us and explained everything in detail. He also managed to tailor the construction to fit our needs. Although there was a delay with the part's delivery from Germany ( due to transport problem outside the Outdoor Scene control), Eamonn and John were very helpful and walked a second mile to make sure we were well looked after. "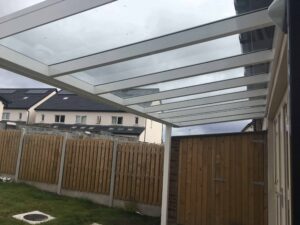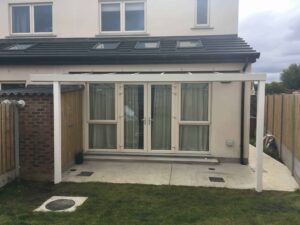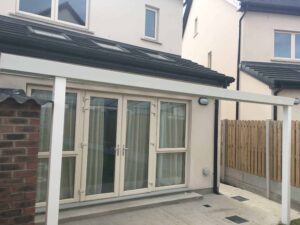 "Now we are looking into the possibility of adding walls (?glass) to the roof so that this space may be even more enjoyable. "
Thank you Eamonn, John, Patrick and Michal and all the team of Outdoor Scene" – Petar & Lina, Co. Dublin
'' We are delighted with the result. Thank you all so much. It has been such a pleasure dealing with you from start to finish and we would have no problem recommending you to anyone. The three lads who did the installation were a pleasure and are top class workers." – Eileen D, South Dublin
For your ideal veranda, and to suit any outdoor entertaining area – The Outdoor Scene has the right advice, and the best products to suit. Please note that we only cover Dublin Area, Meath, Kildare and Wicklow. Contact us today for a no obligation quote to suit your needs. CALL NOW 01 296 0212