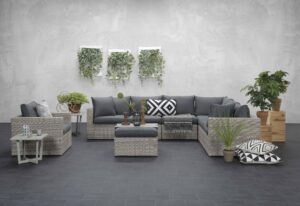 €

1,895.00
Looking for an outstanding garden sofa? The L shaped Sousse sofa is fantastic value for money. A complete outdoor lounge set for the whole family!
Estimated arrival in mid/end of November. Pre-Order now for delivery as soon as they land
The set consists of: 
Outdoor corner sofa (size 242 x 242cm)
Outdoor ottoman (size 75 x 75cm). Please note that the tray table on the ottoman which is shown in the picture is not included & we don't stock it.
Add to cart