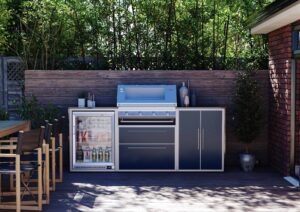 €

10,750.00
Whether it is a patio, suburban terrace or rural mansion you can have an outdoor kitchen that you will be proud of for many years to come. ProFresco Signature 4 Trio package includes BeefEater 4 burner barbecue, outdoor fridge, double drawers, double doors and a granite work top.
Select options
Outdoor kitchens offer at The Outdoor Scene
At the Outdoor Scene, we are proud to offer a range of outdoor kitchens that can be ordered, delivered and installed in your back garden. Using superb Profresco kitchens and BeefEater barbecue parts. These kitchens come with amazing features and styling. Choose the barbecue you desire with a flat lid or roasting hood options and pick from one of four stylish and durable cabinet finishes. These patio kitchens are durable as they feature weatherproof PVC cabinet liners and aluminum soft composite for doors and drawers for exceptional build quality and longevity. Shipping and on-site kitchen installation are included with every Profresco outdoor kitchen. Contact our expert staff today for more information on these amazing backyard kitchens.
Why it is worth to invest in an outdoor kitchen
Outdoor Kitchens are a wonderful investment in your home. But also bring more benefits to your home as well. They are superb for entertaining friends and family alike and bring your friends and family together for grilling nights. Garden kitchens also expand your living space. With a wonderful dining set (also available at the Outdoor Scene), an outdoor kitchen can feel like a new room. Patio kitchens even help save on utility bills. Finally, they are a superb way to expand your cooking repertoire and learn a new hobby while at home. Barbecues are an exceptionally versatile way to cook and an outdoor kitchen lets you share your new hobby with friends and family alike.
Beefeater brochure: Beefeater Barbecues & Outdoor Kitchens Brochure