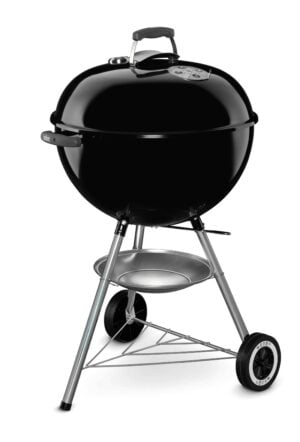 €

199.99
The Weber Classic Kettle offers Weber's world-renowned quality at the original dimensions. This Weber Barbecues specially designed stay-cool handles are made of weather-resistant thermoplastic with a protective heat shield will give you years of dependable service.
Add to cart
It is our mission to help grow the Weber brand in Ireland by offering the best deals on all Weber barbecue gas grills, Weber charcoal BBQs, Weber barbeque covers and in fact all of the Weber range of products.
We offer great prices on all Weber Charcoal BBQs and our service and advice will not be bettered. Our staff are fully trained in the Weber Barbecue school and can give you the best advice on the right Weber barbeque for you.
Many of our customers often ask if we can assemble their Weber barbeque for them, the answer is almost always YES! If you are searching for a Weber barbecue in Dublin or surrounding areas we can deliver your Weber already assembled for a nominal fee.
At the Outdoor Scene in Goatstown Dublin 14 we will deliver your Weber BBQ to your patio and connect your gas for you. Your Weber barbeque will be ready fire up as soon as we leave.
Over the years the Outdoor Scene has carried a wide range of barbecue brands. We have tried and tested them all and we can consider ourselves the experts where barbecues and grilling are concerned.
The Outdoor Scene have over ten years experiencing in selling barbeques, that is why when we say that Weber are the best barbeques on the market, we know that it is true. Weber are the best barbeques on the market in Ireland and The Outdoor Scene is the best barbeque centre in Ireland.