Create Your Glass Room In Your Patio
Add glass doors to your patio awning or louvered roof to create a lovely, sheltered spot. It is ideal for enjoying barbecues, breakfasts, and family gatherings even in the winter and autumn. During summer, you can easily slide open the panels of your sliding wall to enjoy the breeze.
Verano Olivera Sliding Glass Doors
Sliding glass doors are designed to create a perfect access door to your patio.
| | |
| --- | --- |
| Maximum Width | 6000 mm |
| Maximum Height | 2250 mm |
| Type of Filling | Tempered glass 8 mm or 10 mm |
| Extra | Including carrier for the glass package |
Our Recent Project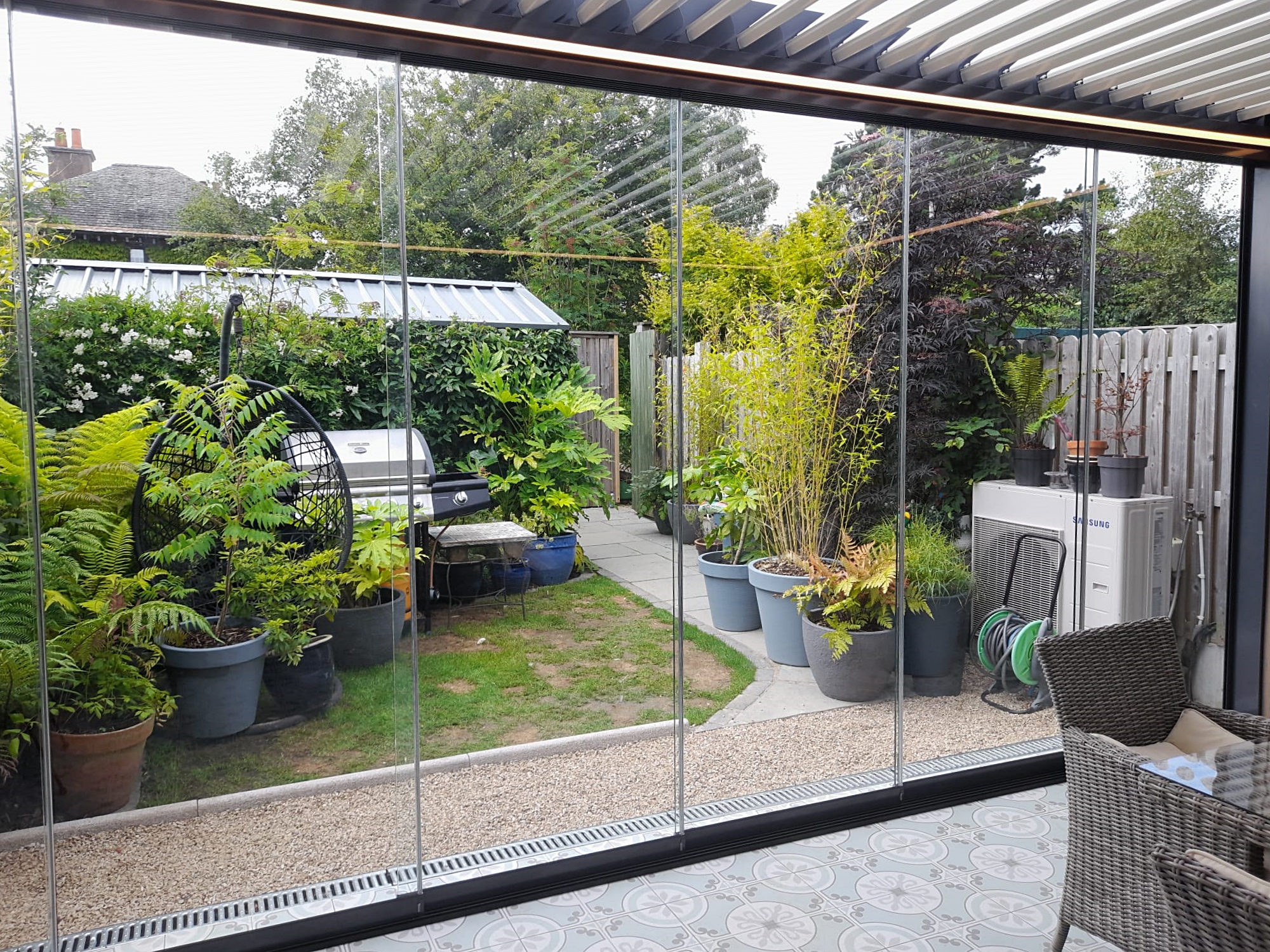 Sample pricing on Verano Olivera [mm] sliding doors – RRP incl. VAT
| | | | | | | | | |
| --- | --- | --- | --- | --- | --- | --- | --- | --- |
|   | 3000 | 3500 | 4000 | 4500 | 5000 | 5500 | 5750 | 6000 |
| 2000 | € 1,907  |  € 2,057  |  € 2,207  |  € 2,772  |  € 2,981  |  € 3,329  |  € 3,434  |  € 3,538  |
| 2250 | € 2,015  |  € 2,182  |  € 2,351  |  € 2,933  |  € 3,160  |  € 3,526  |  € 3,640  |  € 3,753  |
| 2500 | € 2,123  |  € 2,308  |  € 2,493  |  € 3,094  |  € 3,338  |  € 3,724  |  € 3,845  |  € 3,967  |
| 2750 | € 2,232  |  € 2,435  |  € 2,636  |  € 3,255  |  € 3,516  |  € 3,920  |  € 4,050  |  € 4,182  |
| Number of Tracks | 4 | 4 | 4 | 5 | 5 | 6 | 6 | 6 |
| Glass Width Per Part | 769 | 894 | 1019 | 923 | 1023 | 939 | 981 | 1023 |
| Handle in Glass | € 198  |   |   |   |   |   |   |   |
| Inside Lock | €  25  |   |   |   |   |   |   |   |
| Draught excluder (per m1) | € 6  |   |   |   |   |   |   |   |
| Wall connection (per m1) | € 15  |   |   |   |   |   |   |   |
Fitting is subject to a site survey
Guide prices only. All sliding doors are custom-made to the customer's specifications and can be made to any size within the range
Please note that we only install glass sliding doors in the Dublin Area, Meath, Kildare, and Wicklow. Contact us today for a no-obligation quote to suit your needs. We will get back to you with the quotation within 3-5 working days. CALL NOW 01 296 0212