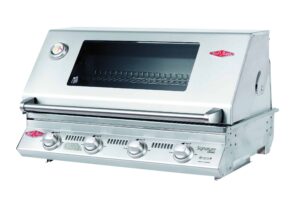 €

1,725.00
Signature S3000S Built In 4 Burner BBQ & Hood  12840 (Cast Iron Pack)
Beefeater barbecues are not just built-in, but built to last. With a solid stainless steel BBQ frame and roasting hood and  solid stainless steel materials throughout, 4  burners,  professional cast iron cooking Grills on board, you can fire up this 4 burner Barbie and cook for the crew, then sit back, relax and enjoy.
 All Beefeater BBQs can be converted to Natural Gas.
Add to cart
Beefeater barbecues at The Outdoor Scene
At The Outdoor Scene, we can honestly say that BeefEater has the most extensive range of BBQs. Come in and check out the barbeque that suits you and your outdoor BBQ needs. Did you know that all BeefEater Barbeques can be adapted for Natural Gas? Yes, that's right, there is a natural gas adapter kit for all of the BeefEater Barbeque series and it only costs up €55.00 to convert to natural gas. Whether it's just the two of you or the whole gang is over, you'll be impressed a by this barbecue grill. Another great thing about this barbeques is that you can choose if you want your barbeque to be mobile (with trolley and caster wheels) or choose the built-in option. That's right, if you decide to build a dedicated area on your deck or patio and create a dedicated bbq area, you can build a complete outdoor kitchen with the Beefeater outdoor kitchen range.

Beefeater brochure: Beefeater Barbecues & Outdoor Kitchens Brochure
BeefEater barbecues range
Straight from the land down under. The BeefEater bbq range is known for its high quality and superb construction. The BeefEater range differs from the competition in that it offers multiple and customisable grills. The company's freestanding range is like a traditional bbq, with wheels for portability around the garden and the barbecue head atop a high-quality cabinet. A build-in BeefEater model allows you to mount the barbecue grill head onto a surface and build it into your garden as a permanent fixture. Finally, you can really take your outdoor grill setup to the next level with a fully-featured outdoor kitchen. This is a brand that truly embraces the outdoor lifestyle.
Why Beefeater bbq?
BeefEater is the most popular range of gas barbeques in Australia. Featuring high-quality construction and components alongside stylish looks. These grills have been popular worldwide for the last 35 years. With the confidence of a lifetime warranty. They are built to last. A company at the forefront of barbecue technology and manufacturing. BeefEater brings innovation and excitement to its products that will always lead to a perfect bbq.