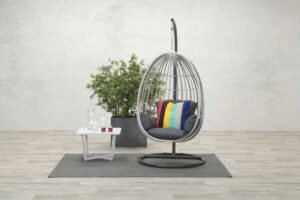 €

395.00 –

€

495.00
The Panama Egg Chair is the ultimate in relaxation outdoors. Part of our rattan
garden furniture
range, the new style tubular weave is unequalled in terms of aesthetics, strength durability and style.
Select options
Rattan garden furniture in Ireland
The Outdoor Scene was one of the first companies in Ireland to introduce all-weather rattan garden furniture to the market and we have tried and tested products from all of the major suppliers and manufacturers. We have in stock popular rattan cube sets, rattan dining sets, rattan reclining chairs and swing chairs. We also offer rattan cushion boxes. Wicker furniture is now a popular choice in Ireland as it is well known for its durability and versatility. Contemporary rattan furniture which we offer is a perfect fit for every modern outdoor space. We are proud to stock only high-quality wicker garden furniture. It is recognised by flawless details, elegant designs and weatherproof cushions. Browse now our range of outdoor furniture and upgrade your patio! We will deliver your purchase nationwide in Ireland.
Is  wicker furniture weatherproof?
All our outdoor furniture is weatherproof. However, in order to fully protect outdoor wicker furniture, we recommend garden furniture covers. They should reach all the way to the floor. This will help to prevent water from splashing up. Also, extending an awning over the furniture on rainy days is a good way to protect the furniture from damage. Always store your cushions inside if they are not in use. It is a great way to keep them clean and protect from the rain and snow.
How to choose Rattan Garden Furniture?
Do you know what to look for when you are choosing Rattan Garden Furniture? Rattan Garden furniture is often referred to as wicker furniture. It is made with a synthetic polyurethane PE material that is made to look and feel like natural rattan but is maintenance-free. The PE rattan material is interwoven around an aluminium frame so that the finished item is suitable to be left out all year round. Rattan outdoor furniture is manufactured in many different forms for every occasion. Popular rattan dining sets can be accompanied with rattan reclining chairs to create a perfect outdoor lounging area. Rattan sofa sets are great for bigger patios where they can be used as dining and lounging furniture sets. Hanging chair or cushion box can be a great addition to any setup. Whatever your choice is we recommend a high-quality outdoor furniture cover to keep your investment clean and safe for years to come.
Wicker furniture trends
Modern rattan outdoor furniture combine great technical performance and beautiful look. In many cases, garden furniture is indistinguishable from indoor furniture. However, the structure is always built to withstand bad weather. The choice of materials must also meet a resistance requirement. More and more cushions are not only all-weather but also water-resistant. Comfort is also a timeless trend for garden furniture. It has to provide relaxation and be suitable for both dining and lounging. Trendy wicker furniture incorporates wooden elements and earthy tones such as browns.