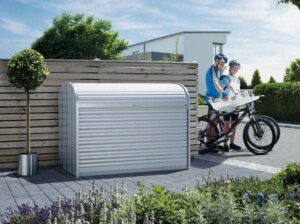 €

1,199.00 –

€

1,819.00
StoreMax Roller Storage Box
StoreMax
- The multi-purpose roller shutter box All of a sudden everything looks different. The lawn- mower has its own garage and the refuse and old paper storage looks so much tidier. The multi-purpose design of the StoreMax® offers a maximum of storage room in a small compact space. The practical two part opening system with its effortlessly sliding roller shutters is designed for quick access The StoreMax is available in
3 colours
- metallic silver, metallic quartz grey or metallic dark grey
3 Sizes
- StoreMax® 120, 160 and 190
Please note. Currently The Storemax lead time from order to delivery is Three Weeks
Select options
Why it is worth to invest in Biohort garden shed?
The Outdoor Scene is pleased to partner with Biohort, one of Europe's top storage manufacturers, to bring you a range of Biohort Garden Sheds available to Irish customers. A Biohort garden shed is a superb investment in your back garden. Featuring strong aluminium weatherproof construction. These garden sheds are easy to assemble and built with strength and longevity in mind. They are also insulated against the elements, making them perfect for storing your garden materials and items important to you like your bike and protect them against the unpredictable Irish climate.
Types of Biohort garden sheds
Biohort Garden Sheds come in many different varieties. For a traditional Biohort garden shed. Choose the Europa, Avant Garde or Panorama model. All these garden sheds come in a variety of sizes to suit your garden needs and offer spacious and insulated protection for your garden tools, barbecues and other items. Biohort Garden Sheds also can be equipped with a number of easy fitting garden accessories as part of your order to fully customize your shed for your needs. If you don't have a lot of space, we also carry Equipment Lockers and Bike Sheds as part of our garden sheds range that comes with the strong and durable construction to protect valuable items, like your garden equipment and bike. To help you find the right Biohort garden shed, contact our expert staff via phone or email and they will be willing to assist you.