[vc_row][vc_column][vc_column_text]
Spending time outdoors has never been kept only for warm summer evenings. Chilly evenings after sunset also deserves a night outside. More homeowners extend their homes to outdoors incorporating outdoor garden dining furniture that compliments the aesthetics of their homes. Outdoor kitchens and cosy corners do not have to be left for summer nights. In many cases, individuals love to create a cosy ambience in the evenings with gas fires or outdoor electric heating, irrespective of temperature or time of the year.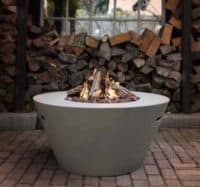 One of the best solutions is using gas fires. A gas fire is excellent as you arrange your rattan garden furniture around it with everybody enjoying the glorious heat in an intimate atmosphere. These outdoor gas fires are usually made from fibre clay or powder coated aluminium. With just a click of a switch, you can immediately enjoy the ambience and comfort of a real flame fire. No build up, no firewood, no smoke! They are also more energy efficient than traditional wood-burning fireplaces. Gas fires are usually produced in the form of a table with some space, for example for serving drinks. It is great for gathering around and relax. This year, our range includes the Melbury Gas Fire Table. An amazing outdoor solution that's perfect for dining and goes with many furniture sets. We also have the stunning New York Gas Fire and the Athens Gas Fire. Both superb additions to your garden that is sure to keep the conversation going well into the evening.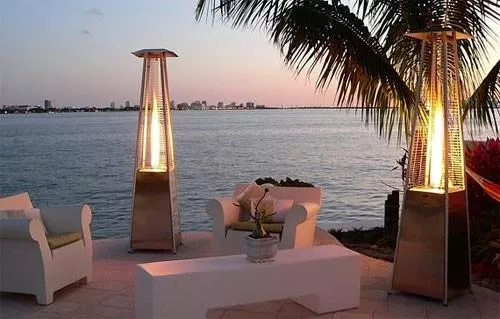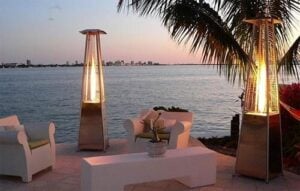 Patio gas heaters with Tilt Hood are another excellent choice. These heaters are safe and compliment any garden furniture while taking up very little space. Tilting Hood is a patented Irish design that allows directing the heat where it is needed most. Another type of gas patio heaters is the contemporary Athena Flame Patio Heater. The Athena heater produces a large flame that heats up an outdoor area efficiently and creates a unique and aesthetically pleasing look.
For those looking for heaters for their commercial space like a bar garden. The Commercial Patio Heater is also an interesting gas heating solution, ideal for bigger gardens or patios. This portable heater is both effective and stylish. With a centerpiece that functions as a table, as well as best in class heating. This is an ideal meeting place that won't look out of place on any patio or terrace.

If you are buying for a commercial space. We highly recommend our electric heaters and gas patio heaters. For more information, our sales team are available to talk you through your options
If you want to remain traditional in every sense and not bother with gas, then we can suggest that you use an electric heater specially designed for all year round use outdoors. Electric heaters are environmentally friendly, silent and provide instant heat. Running costs are low. When looking for electric heaters outdoors look for models using short wave lamps, as outside breezes do not disturb it by producing heat in an infrared band to warm bodies not air. The other difference is that medium and long wave use quartz while short wave uses ruby red halogen, clear halogen or gold bulbs. You also need to keep in mind that you want to look at the kW of the heater you use outside as higher is better for more warmth.
Don't forget. We have a variety of covers available for your heater to protect against prolonged spells of rain and wind. These covers are weatherproof and also designed to keep your patio heater from getting dirty or damaged by the weather.
Any of these options are excellent choices that will match any outdoor garden dining furniture. However, with electric outdoor heating, you have to keep in mind that you need an electrical outlet nearby.
[/vc_column_text][/vc_column][/vc_row][vc_row][vc_column]
[/vc_column][/vc_row]