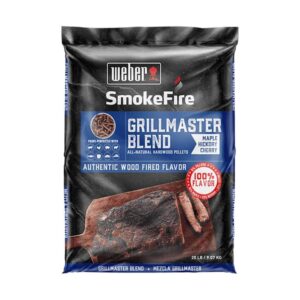 €

29.95
Thoughtfully crafted by Weber's expert cooks and engineers specifically for the brand new Smokefire series. These Weber wood pellets are designed to enhance your food with an authentic wood fried taste.
Add to cart
Weber Smokefire Bbqs
A brand new barbecue introduced in 2020. The Weber SmokeFire barbecue is packed with features and innovation. It has been called the most "Innovative grill in Weber history". Designed to produce natural barbecue flavour fueled by wood pellets. This pellet grill from Weber is perfect for grilling, smoking, searing, baking and more. Combining the ease of control from gas grills with the precision of electric grills alongside the modern technology included with Weber Connect. The Weber SmokeFire is easy to clean with bucket free grease and ash removal. It has a porcelain enamel finish for incredible durability and flavouriser bars to direct heat to every part of the cooking grate. An incredible all-in-one solution to your barbecue needs.
Is the Weber Smokefire for you?
The Weber SmokeFire is a perfect solution for those new to barbecuing or who have experience grilling already. thanks to the inbuilt Weber Connect. Simply connect your phone to the Weber pellet grill using the Weber Connect app (Available on iOS and Android) and get step by step grilling assistance on when to flip food for optimal cooking on both sides to a countdown including recipes for the most popular foods. The Weber SmokeFire is also built to hold a vast temperature range and provide a ton of versatility. This barbecue can do "low and slow" style cooking and sear steaks at high temperatures. It can also do roasts and even bake perfect Pizza and desserts. An amazingly versatile barbecue. The SmokeFire is perfect for all experience levels.