Sorry, this product cannot be purchased.
Showing all 3 results
€

3,995.00
A sleek and sophisticated dining table. The Fermo is made with a modern aesthetic in mind that is perfect for a garden get together while also bringing a stylish centerpiece to your garden. Perfectly angled to fit your design goals, this table has been a popular product at The Outdoor Scene and we are pleased to make it available this year with a brand new colour. This table's structure is made from tough and durable aluminum with a powdered finish. The table also comes with a modern ceramic counter top with a marble-like finish. Dimensions Table: 100cm x 240cm x 75cm Chair: 59cm x 69cm x 88cm
Add to cart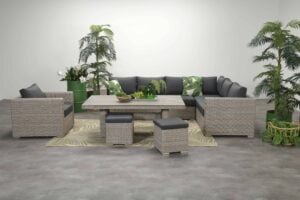 €

2,995.00
The high-quality materials combined with comfort makes the Valencia Lounge Set one of the most popular sets in years. Available also as a set with
3 Seater Sofa and Low Table
.
Buy now & get free shipping!
The Valencia Lounge Set consists of:
1 x 3 Seater Sofa (225cm x 93cm)
1 x Open Seater Sofa (211cm x 93cm)
1 x High Table (180cm x 100cm)
2 x stools (45 x 45cm)
Add to cart
€

3,995.00
Perfect outdoor furniture set with a fire pit for entertaining guests outdoors. The tabletop of the fire pit looks exceptionally realistic, has fantastic weatherproofing and is made from Eco-friendly Resysta without compromising on looks.
Special Early Buy Price!
Dimensions
Overall dimensions (approx. minimum required space): 2.95m x 2.95 m
Fire Pit Table - W120 x D120 x H63.5cm
Left Hand Modular Sofa - W160 x D90 x H83cm
Right Hand Modular Sofa - W160 x D90 x H83cm
Corner Sofa - W160 x D90 x H83cm
Footstool Bench - W90 x D45 x H32cm
Add to cart